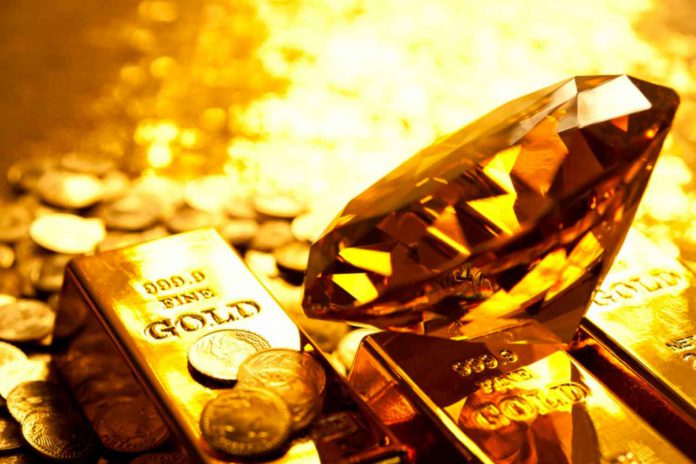 The latest gold price in Pakistan for 24K, 22K are updated.
The latest gold price in Pakistan today, April 15 reached Rs. 107,774 for 24 carat gold per tola. On the other hand, 24 carat gold is priced at 10 grams is Rs. 92,400.
Over the past few weeks, gold has undergone a new change, leading to higher gold prices. Since the data on weekly unemployment claims have arrived, an important point of the COVID-19 trade is that a truly safe haven has begun.
According to details, this is the first time gold in the country is worth more than 100,000. Its price is increased almost by Rs 700 per tola. Prices compiled by ASSJA come with a one-day break after international prices change.
Prices reached seven-year highs in global markets. The International Monetary Fund predicts in its latest forecast that the global economy could decline 3 percent in 2020 due to the outbreak of the virus, which may have led to the worst recession since the Great Depression of the 1930s. The exchange of trade funds or ETFs in the gold exchange continued.
Below, you can check the latest gold price in Pakistan in different cities
| | | | |
| --- | --- | --- | --- |
| City Name | 24K (Per 10 Gm) | 24K (Per Tola) | 22K (Per 10 Gm) |
| Karachi | Rs. 92,400. | Rs. 107,774 | Rs. 84,700 |
| Hyderabad | Rs. 92,400. | Rs. 107,774 | Rs. 84,700 |
| Lahore | Rs. 92,400. | Rs. 107,774 | Rs. 84,700 |
| Multan | Rs. 92,400. | Rs. 107,774 | Rs. 84,700 |
| Islamabad | Rs. 92,400. | Rs. 107,774 | Rs. 84,700 |
| Faisalabad | Rs. 92,400. | Rs. 107,774 | Rs. 84,700 |
| Rawalpindi | Rs. 92,400. | Rs. 107,774 | Rs. 84,700 |
| Quetta | Rs. 92,400. | Rs. 107,774 | Rs. 84,700 |