Islamabad: The new government increased the National Savings Scheme profit rate in the country.
Profit rate for National Savings Scheme Pakistan is increased by 0.72 to 0.96%. Central Directorate of National Savings increased the rate for different products of National Savings Scheme.
The rate for Shuhada Family Welfare Accounts, Pensioner Benefit Accounts, and Behbood Savings Certificates are increased by 0.72%. However, the rate is increased from 10.20% to 10.92%.
The Special Savings Certificate (Registered)/ Accounts rate is increased by 0.77%, from 7.10% to 7.87%. However, the Defence Savings Certificates rate is increased by 0.75%, 8.30% to 9.05%.
The Saving Account profit is increased by 1%, from 5% to 6%. However, the Regular Income Certificates have seen an increase of 0.744%. Now, the new rate is 8.784% higher than the previous 8.04%.
Short Term Savings Certificates profit rate is also increased by 0.96%. The 12 month certificate has been enhanced from 6.56 percent to 7.52 percent. The 6-month certificate improved from 6.46 to 7.42 percent and the 3-month certificate increased from 6.40 percent to 7.36 percent.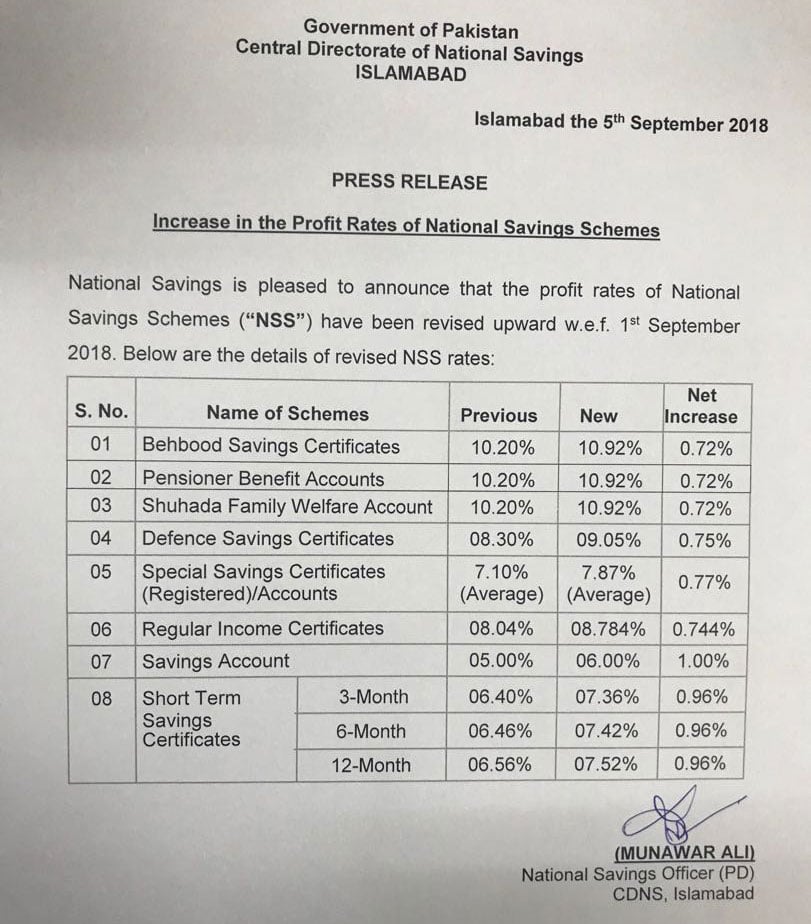 New National Savings Scheme rates in Pakistan will be effective from September 1.