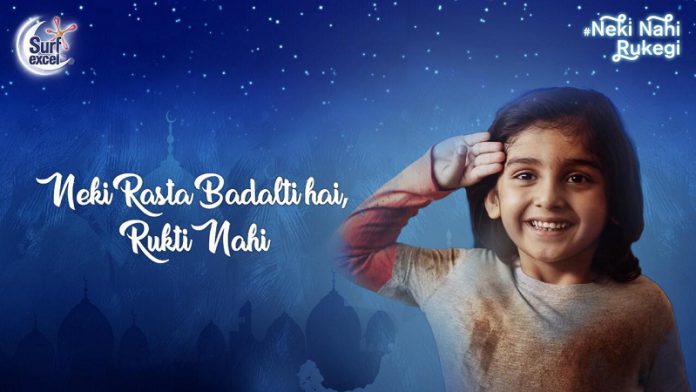 Surf Excel has a good association with the holy month of Ramadan as their powerful content always leaves a positive impact on people's minds.
They are continuing their legacy for half a decade. In 2016, the journey began with #madadekibadat. Later, they came up with #NekiEkIbadat, #EkNekiRozana and Eesar Ek Ibadat in consecutive years.
Now, they came out with another engaging TV commercial in Ramadan which made people emotional. The #NekiNahiRukegi campaign emphasizes on simple yet powerful message: "where there is a will, there is a way".
Surf Excel is doing a remarkable job through #NekiNahiRukegi despite the whole world is facing tough times due to Coronavirus. The TVC has a great storyline where innocent children display the strong will to promote positivity, compassion, and kindness among masses.
At the start of TVC, a child asks his father, how can he be kind in this tough situation? His father perfectly replies "Jab neki karne ki chah hoti hai tou neki karne ki raah bhi hoti hai".
The rest of the ad's theme is aligned with this message. The child began offering help to others while maintaining social distance. He offered food to the security guard and the old man, intending to provide relief to everyone he can.
A cute girl is also visible creating a heart-melting note to a healthcare worker, which makes her emotional. Later, a child perfectly cleans the messy room of a policeman in his absence.
In the end, the boy's father, who is a doctor himself sees his son wearing clothes with stains. However, the mother informs that he did good deeds, just his father does.
When talk about Surf Excel, it is undoubtedly the best content producer. They know how to attract and engage the audience so their spirit of kindness blossoms in any situation. It is a key reason that Surf Excel is getting all due praise and love for winning our hearts with another positive message.
The strong visual content is not just the only thing to acknowledge in #NekiNahiRukegi. Powerful lyrics, soothing music, and the soulful voice of Shafqat Amanat Ali also make it a perfect TVC. We can hope that other brands will also follow the footsteps of Surf Excel by encouraging good deeds through meaningful and engaging content.