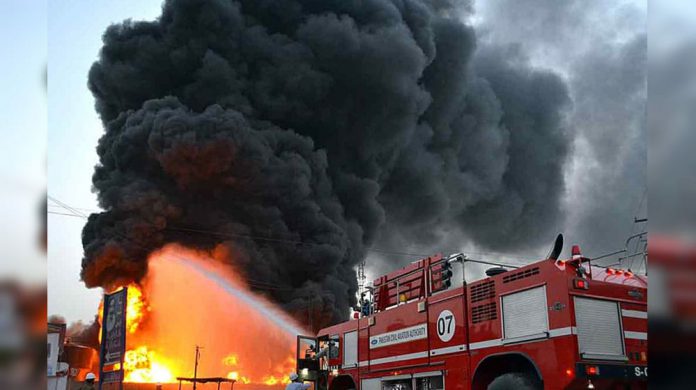 Fire At Kemari Oil Terminal
The fire at Kemari oil terminal on Thursday (today) resulted in the suspension of petrol supply. Four people were injured due to fire. Flames were stopped to spread further after 9 fire brigade vehicles took part in the extinguishing process.
Rangers personnel along with the Pakistan Navy officials extinguished the fire. After the unfortunate incident, the All Pakistan Oil Tankers Association put a suspension over petroleum supply in Pakistan till the situation improved.
Shams Shahwani, the Vice Chairman Oil Tankers Association, added that the next course of action will be decided after the full control over fire. He further added that all vehicles are removed the engulfed oil terminal's vicinity.
As per Rangers officials, more fire brigade vehicles along with water board hydrants have been asked to provide help in dousing the flames. The traffic is being diverted from ICI Bridge to other route as the road leading to Kemari has been closed for vehicles.
Statement From Shell Pakistan
A 20 inch diameter PSO import line passing inside Shell Pakistan's terminal at Kemari caught fire, authorities have been quick to action, Fire Brigades, emergency rescue staff along with Shell Pakistan team are all present at the site and are extending their support in ensuring the safety of every personnel present at PSO terminal.
The maintenance and safety standards compliant of key oil pipelines is crucial. It is important to realize that compliance is priority for safety and sustainable infrastructure. Pakistan being an import reliant country, needs to ensure the most stringent of compliance in terms of pipelines for the fuel supply coming into Karachi and Shell Pakistan is willing to support all stakeholders in this regards so that such unfortunate incidents can be avoided.