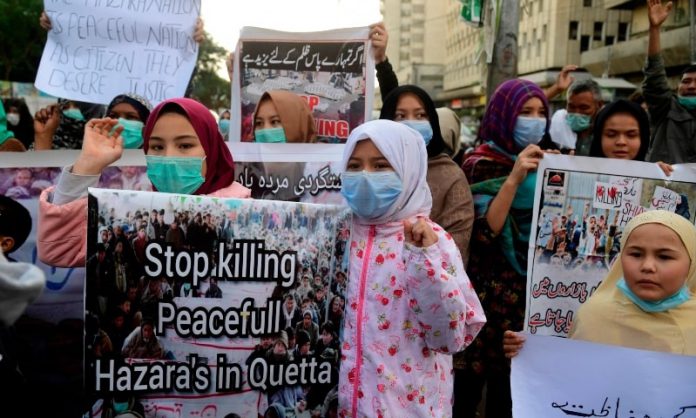 Protest in Karachi
The protest in Karachi is in progress as Hazaras Shia are demanding justice and protection. Members of the Karachi-based Hazara community, along with other groups are staging protests in different parts of the city.
Families of Machh massacre victims are gaining support from Karachi residents as well. Protesters expressed anger and grief over the brutal killing of 11 community members in ​​Balochistan.
Along with members of civil society, a large number of people gathered at the press club to express their anger over the recent tragedy. He said it was as if the attackers "escaped full punishment" every time they killed members of their community. They said it was as if the assailants "flee with complete impunity" each time after killing their community members.
Sit-ins and protests are also organized at Numaish Chowrangi, Abbas Town and Ancholi by the Majlis Wahjat-e-Muslimeen on Tuesday.
Residents of Hazara Goth, a Hazara-populated neighborhood near Napa Chowrangi, protested outside the KPC. Protestors said the killing of innocent members of the community could not force them to renounce their faith.
Zameer Mughal, a student from Hazara, said, " Our people have become mentally sick because they have been denied the right of movement and have been forced to live just in a few-kilometer radius in Quetta," He said fear and threats forced Hazara youth to migrate abroad.
Protesters demanded strict implementation of the National Action Plan (NAP) to curb sectarian violence and prevent them from coming up with new names.
Veteran politician Farooq Sattar also demanded call for action against militant elements.