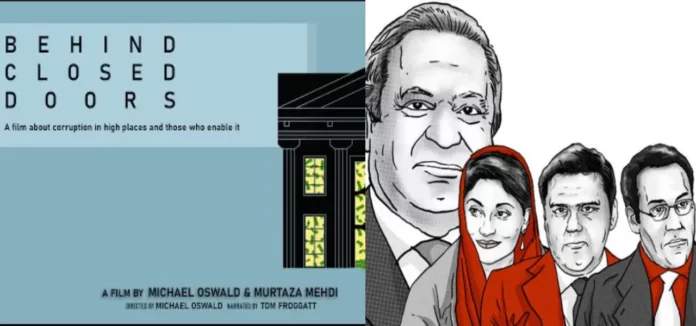 Behind Closed Doors, a documentary is to release soon on the subject of governmental corruption. The people interviewed as seen in the trailer were Imran Khan, Arshad Sharif, Fawad Chaudhry, Irfan Hashmi, and others.
The trailer was released on YouTube and within a few minutes acquired a massive response. The video opens up with a Kenyan Journalist John Allan Namu saying how the elite are linked with power. A quote displayed at the start of the film was by Frédéric Bastiat, a former member of the National Assembly of France says, "When plunder becomes a way of life for a group of men in a society, over time they create for themselves a legal system that authorizes it and a moral code that glorifies it."
The film is directed by Micheal Oswald and produced and written by Murtaza Mehdi. The documentary featured various journalists' clips including Emin Huseynoc from Azerbaijan, Arshad Sharif, and Irfan Hashmi from Pakistan. The film's main idea revolves around the Sharif family and their corruption that had made new avenues in London.
The documentary also underscores the term PEPs which is Politically Exposed Persons that holds their governmental position and are involved in bribery or corruption. The documentary also talks about offshore links to plunder, conceal, or invest in a white- money. Yet the audience is looking forward to an official announcement by the makers of where the film will be streamed.