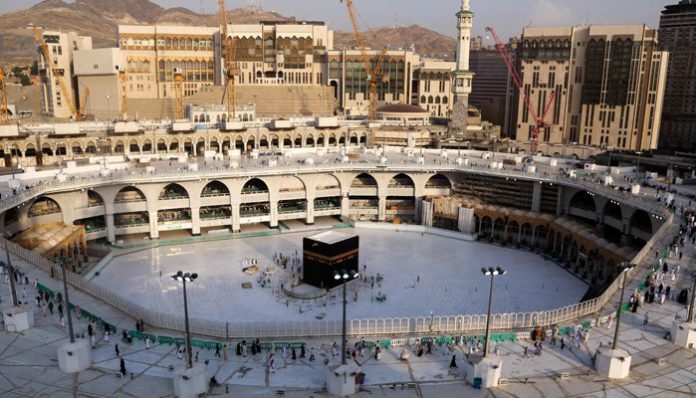 Saudi Arabia reopened the holy sites in Makkah and Madinah after the yesterday's temporary closure.
On Thursday, Saudi Arabia vacated Islam's holiest site for purification over fears of the Coronavirus, an exceptional move after the KSA suspended the year-round Umrah pilgrimage.
The State TV transmitted images of a clear white-tiled area surrounding the Kaaba – a large black cube structure in Makkah's Grand Mosque – which is usually crowded with tens of thousands of pilgrims.
The move was an "impermanent preventive measure" yet the other floors of the Grand Mosque were as yet open for prayers.
This action happened after authorities last week stop visas for the umrah and banned citizens from the six-nation Gulf Cooperation Council from entering Makkah and Madinah.
Three new cases of Coronavirus reported in Saudi Arabia so now a total of 5 people are affected by the virus in-country.
It is noted that in Ramadan, a large number of Umrah pilgrims visit the country. However, the holy month will start in late April. In addition, it is still unclear that how Coronavirus will affect the Hajj 2020.
In 2019, approximately 2.5 million people across the world visited Saudi Arabia for Hajj.
Hajj is a very big challenge for the Kingdom government, with enormous crowd overfilling into relatively small holy sites, making attendees vulnerable to infection.
On the other hand, Abu Dhabi General Authority of Islamic Affairs & Endowments limited the Friday prayers timings to 10 minutes.