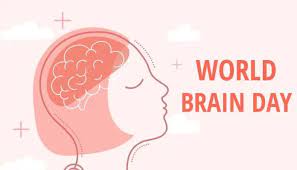 Every year on July 22, there is a celebration of World Brain Day to raise awareness of brain health. In 2014, it was recommended by the World Federation of Neurology, which was founded on the same day in 1957, to commemorate the day as World Brain Day. "This suggestion was presented at the WCN Council of Delegates meeting on September 22, 2013, and the delegates enthusiastically embraced it. The Board of Trustees approved this proposal as an annual activity at their meeting in February 2014, "According to a statement released by the World Federation of Neurology.

Brain health for everybody is the focus of this year's World Brain Day. Prof. Tissa Wijeratne, the co-chair of World Brain Day, stated that "Brain problems affect billions of people globally and are the primary cause of impairment."

The brain can exercise through activities including card games, music lessons, musical instrument playing, dancing, language practise, problem solving, and brainteasers. Learning new abilities is an intriguing approach to keep the brain busy.

In order to memories the motions and notes for these tasks, the person must exert mental effort. This presents the brain with a new challenge, which calls for a certain level of commitment. It consequently keeps the mind active and awake. However this day celebration creates the awareness among people regarding the things that maintain live and active brain and its importance.