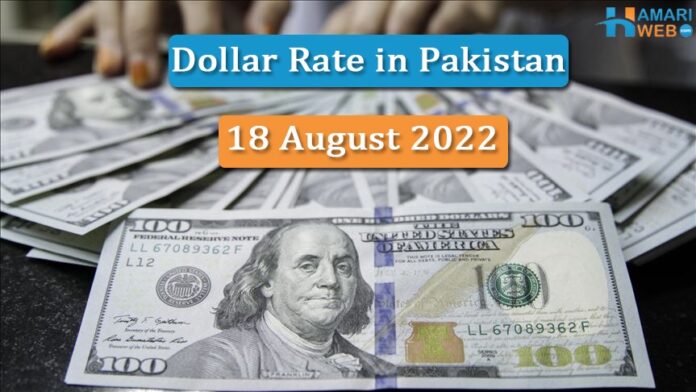 18 Aug 2022 – Today 1 USD to PKR conversion rate is Rs. 215.00 in open market currency exchange in Pakistan. US Dollar USD to Pakistani Ruppee PKR buying and selling rates are different in inter bank and international market rates. US Dollar rate in Pakistan has increased PKR 3.25 or 1.535% on trading in currency conversion or open market rate. Use the calculator below to convert currencies online.
CHECK: USD to PKR Rate History
Dollar Rate in Pakistan Today
Today, 1 US dollar has become 214.00 rupees higher by 0 rupees 75 paisa in interbank. In the open market, the value of the dollar also increased by 3.25 rupees, after which 1 US dollar has become 215.00 rupees. In the open market, the purchase price of a dollar from a consumer is Rs 212.15.
USD to PKR Open Market Forex Rates History
| DATE | BUYING | SELLING |
| --- | --- | --- |
| Today | 212.15 | 215.00 |
| 16 Aug, 22 | 207.75 | 211.75 |
| 15 Aug, 22 | 208.00 | 212.00 |
| 14 Aug, 22 | 211.00 | 214.00 |
| 13 Aug, 22 | 211.00 | 214.00 |
| 12 Aug, 22 | 211.00 | 214.00 |
| 11 Aug, 22 | 215.00 | 220.00 |
| 10 Aug, 22 | 216.00 | 222.00 |
| 09 Aug, 22 | 216.50 | 221.00 |
| 08 Aug, 22 | 216.50 | 221.00 |
| 07 Aug, 22 | 216.50 | 221.00 |