Fawad Chaudhry, the vice president of the Pakistan Tehreek-e-Insaf (PTI) detained by police. Earlier on Wednesday morning in Lahore for threatening election officials, police arrested him from his residence.
According to a tweet from PTI leader Farrukh Habib, Fawad Chaudhry taken into custody by police at his Lahore residence. He claimed that the imported administration is in a panic since it has begun arresting PTI leaders.
The brother of a nominal federal minister said that he was "taken away" around 5:30 am in four unmarked cars. The whereabouts of Fawad were unknown to the family, according to Faisal Chaudhry.
Police and members of the Punjab Counter Terrorism Department took Fawad to the court. PTI attorneys welcomed Fawad and showered him with rose petals. The investigating officer asked the judge to give Islamabad police the PTI leader's transit remand as the session got underway.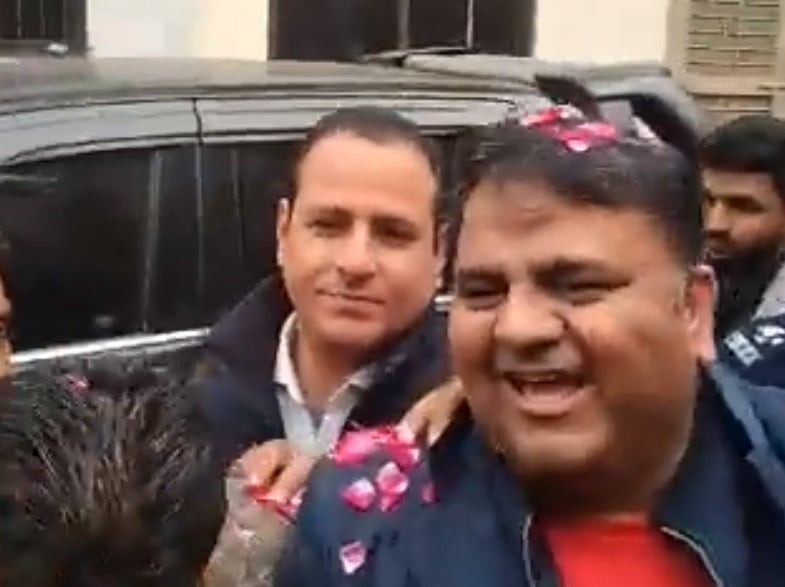 Fawad requested a copy of the FIR filed against him from the judge on his behalf. He continued saying he was proud of the accusations made against him.
"Nelson Mandela detained on such allegations as well".
According to the report, Chaudhry threatened the ECP at a rally outside the home of PTI Chairman Imran Khan, saying "those who join the caretaker government [in Punjab] would pursue till they are punished."
Fawad attempted to "incite violence against a constitutional institution" and "inflame the people's feelings," the Islamabad police said in a later tweet.
The former minister of information detained after ECP Secretary Umar Hameed filed a complaint against him at the Kohsar Police Station in the nation's capital. As per (FIR), the PTI leader has charged under sections 153A, 506, and 124 A of the Pakistani Penal Code for allegedly assaulting the ECP and its members on Tuesday during a public interview.