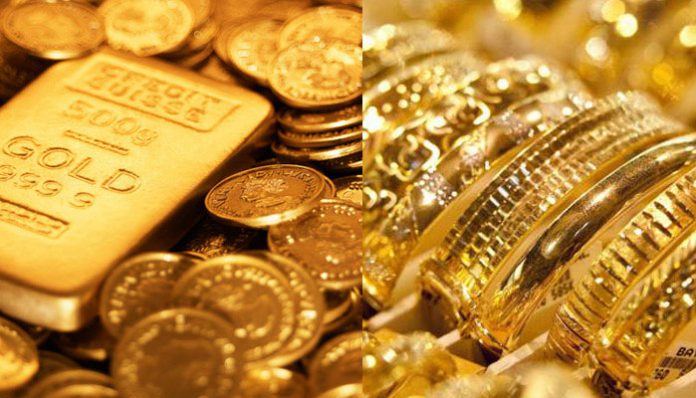 As per market updates, gold price in Pakistan today for per tola and 10 gm can be seen here.
Gold price in Pakistan on May 6 surge to the grip of masses. The per tola rate is Rs. 102,225 and the per 10 gm rate is Rs. 87,643.
The Gold price in Pakistan varies due to the influence of several factors such as the rising oil prices, inflation, high USD to PKR rate, etc.
In the international market, gold prices fell as investors made profits after the dollar raised, but losses were met due to retail sales and manufacturing data outside the United States, the new Coronavirus the global recession has led to increased fear of recession.
It is noted that for a long time, gold is considered to be a high-value metal and is widely used for various purposes. People usually use it to invest in gold.
With global oil prices falling, oil stocks declined, and after the 1930s, the worst global recession warnings emphasized the economic damage caused by the new Coronavirus.
Gold rate in Karachi and different cities of Pakistan are available here. We update rates on a daily basis.
Below, you can check gold rate in Pakistan in different cities
| | | | |
| --- | --- | --- | --- |
| City Name | 24K (Per 10 Gm) | 24K (Per Tola) | 22K (Per 10 Gm) |
| Karachi | Rs. 87,643 | Rs. 102,225 | Rs. 80,339 |
| Hyderabad | Rs. 87,643 | Rs. 102,225 | Rs. 80,339 |
| Lahore | Rs. 87,643 | Rs. 102,225 | Rs. 80,339 |
| Multan | Rs. 87,643 | Rs. 102,225 | Rs. 80,339 |
| Islamabad | Rs. 87,643 | Rs. 102,225 | Rs. 80,339 |
| Faisalabad | Rs. 87,643 | Rs. 102,225 | Rs. 80,339 |