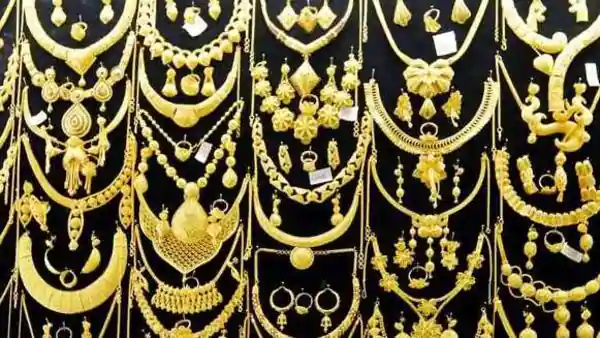 The rate of gold is facing fluctuation in Pakistan. However, you can see below the latest gold price today in Pakistan.
The gold price today in Pakistan per tola reached at Rs. 104,952. In addition, the per 10 gm gold price in Pakistan today on 22 May, is Rs. 89,981.
In the last 12 months, gold prices in Pakistan have increased significantly. However, the trend of buying and selling gold is still present in the market.
Prices reached seven-year highs in global markets. The International Monetary Fund predicts in its latest forecast that the global economy could decline 3 percent in 2020 due to the outbreak of the virus, which may have led to the worst recession since the Great Depression of the 1930s. The exchange of trade funds or ETFs in the gold exchange continued.
Below, you can check gold rate in Pakistan in different cities
| | | | |
| --- | --- | --- | --- |
| City Name | 24K (Per 10 Gm) | 24K (Per Tola) | 22K (Per 10 Gm) |
| Karachi | Rs. 89,981 | Rs. 104,952 | Rs. 82,483 |
| Hyderabad | Rs. 89,981 | Rs. 104,952 | Rs. 82,483 |
| Lahore | Rs. 89,981 | Rs. 104,952 | Rs. 82,483 |
| Multan | Rs. 89,981 | Rs. 104,952 | Rs. 82,483 |
| Islamabad | Rs. 89,981 | Rs. 104,952 | Rs. 82,483 |
| Faisalabad | Rs. 89,981 | Rs. 104,952 | Rs. 82,483 |