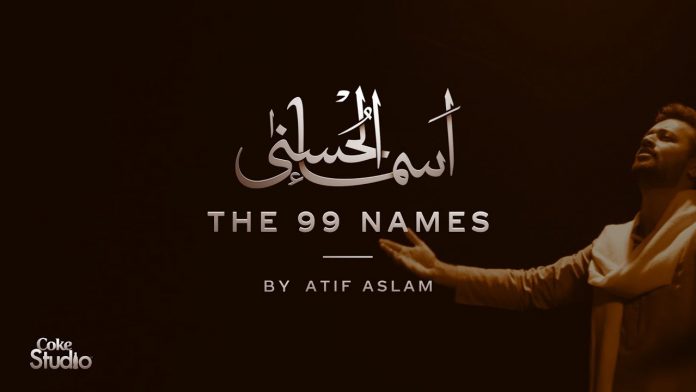 With the essence of hope and comfort in Ramadan, Coke studio released Allah's 99 beautiful names in the heart-touching voice of Atif Aslam on Friday.
Well-known Vocalist Atif Aslam recited Asma ul Husna, three and half minute video directed by Asim Raza and produced by Zulfiqar Jabbar Khan alias Xulfi.  Asma ul Husna by Coke Studio has already taken the attention of millions of viewers on social media. The video already gets 741,255 views on YouTube just after 14 hours of its premiere.
The coke studio released the track with the caption of "A humble expression of hope & solidarity, as we stand with humanity in these times." The track started with Blackhole collision sound that followed the echoes of Allah from the Azaan of Makkah, and this recitation uses 24 voices from all over the country to create an acapella. Malvin Arthur, a musician from Quetta Pakistan, worked on making the choir arrangement using vocals from the world. This track also exhibits an exceptional setup of duffs as their impressive collective reverberates in a space. The complete composition resulted in the voice of Atif Aslam, reciting the influential names of Allah.
The coke studio released beautiful 99 names of Allah in the time of crisis and fear due to pandemic that is an ode to the firm human spirit and an expression of spiritual healing.
The end of this beautiful Asam ul Husna Kalam by Atif Aslam ends with the name of Allah "Al-Saboor," which explains Allah's quality of being most patient. It gives the message to stay calm and patient in these hard times.