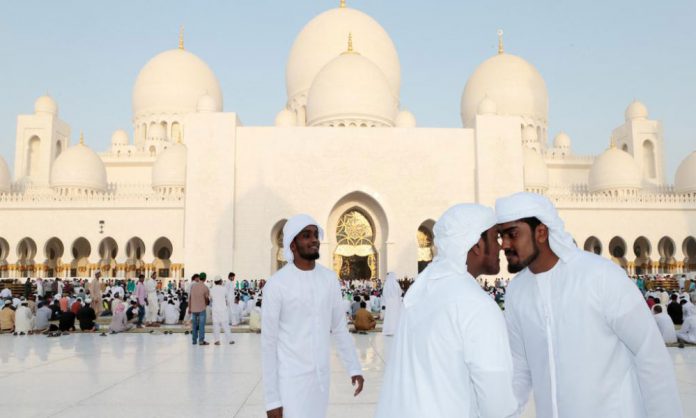 In a virtual meeting on Friday, the UAE moon sighting committee announced that Eid ul Fitr will be celebrated on Sunday.
The committee said that Ramadan is of 30 days this year, and the first day of Eid, 1 Shawwal will fall on Sunday, 24 May 2020.
The moon sighting committee UAE formed under the chairmanship of Sultan al Badi, Minister of Justice, and other senior officials.
On Friday during a virtual meeting, Minister of Justice and Chairman of the committee said that after using the Sharia methods of sighting of the moon and making contact with other neighboring countries they couldn't succeed in detecting moon, therefore, this year 30 days of Ramadan observed and 1 Shawwal, first day of Eid-ul-Fitr will be on 24, May 2020.
However, about Eid prayers spokesperson of the General Authority of Islamic Affairs and Endowments, Sheik Abdul Rahman said that according to Emirates Fatwa council, Prayers of Eid should be performed at home because taking the precautionary measure to protect yourself and your family members.
Doha
Doha has confirmed that Saturday, May 23, 2020 will be the last day of Ramadan and that Sunday May 24th will be the first day of Eid, Shawwal 1st 1441, according to Okaz newspaper.
Qatar
According to Astronomy Center Qatar also officially confirmed to celebrate Eid on Sunday 24 May.
Abu Dhabi
According to reports Shawwal moon was not sighted on Friday after which the authorities announced 24 May will the first day of Eid-ul-fitr.