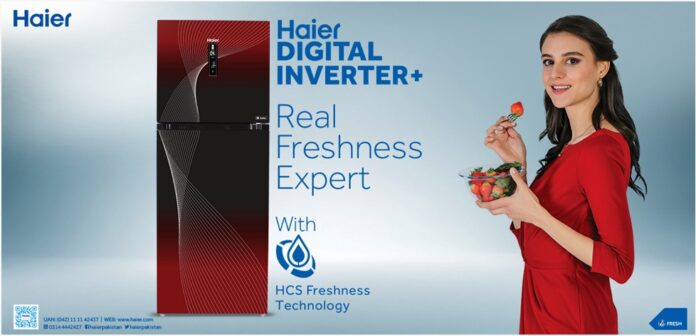 Have you ever thought of owning a home appliance that can make your life easy & healthy at the same time? Haier, being the leading home appliances brand globally aims to bring comfort, efficiency &better living opportunities for the people every day and therefore, has launched a new Digital Inverter + Refrigerator Series in Pakistan.
To play a sustainable role in the society Haier has come up with a Refrigerator with digital inverter technology through which they can preserve their perishables and can enjoy its freshness twice the time as compared to other conventional refrigerators in the market.
Haier'snew Digital Inverter + Refrigerator Series in Pakistan is termed as the'Real Freshness Expert', which is equipped with a variety of technologically-advanced features and comes in a contemporary design in three very attractive colors; Red, Green & Purple.
Haier Digital Inverter+ Real Freshness Expert
The Digital Inverter is a smart refrigerator which hold the ability to keep your fruits and vegetables 2 times fresher as compared to other refrigerators in the market.
HCS Freshness Technology
One of the amazing features of Haier Real Freshness Expert is its Humidity Control System (HCS) technology which maintains 90% of the humidity, allowing the food to stay fresher for a longer period of time.
Digital Control Panel System
Another innovative feature in this series is the Digital Control System (DCS) feature. This feature allows you to have complete control over the appliance, as you can enjoy its precise temperature control function. It comes with 4 temperature sensors which help you set the temperature of your Refrigerator as per your desire.
Less than 1 Unit Electricity Consumption
What if we tell you thatthis refrigerator only consumes less than 1 unit a day because ofHaier's 2nd Generation FD Inverter Technology and saves you energy every day? Yes, this feature is one-of-its-kind and is perfect for people who face a great deal of load shedding and cannot enjoy the real freshness of perishables.
LED Lights in Freezer & Fridge Compartment
The DCS is synced to 4-temperature sensors 1st Sensor is in top hinge refrigerator, 2nd in freezer portion, 3rd Sensor in refrigerator compartment and 4th sensor attached to the compressor. These all sensors help to seamlessly maintain a precise temperature. The fridge comes with LED lights which are smartly placed in both, freezer & fridge compartment.
T-ABT Sterilization
Apart from the DCS control panel, Haier Digital Inverter + Refrigerator comes equipped with T-ABT Sterilization technology, which makes sure that the food stored in your refrigerator is super fresh, hygienic and bacteria-free as it eliminates 99.99% of bacteria, giving you healthy & freshest food.
Operation 105V-260V
People who are worried about loss of voltage in their household should definitely switch to Haier Digital Inverter+ Series, as theserefrigerators operate on a wide voltage range so that you no longer have to worry about voltage fluctuations anymore.
If you are looking for a perfectly classy addition to your home where your edibles will thrive in freshness, then drop by at Haier store and switch to a healthier & smarter option for yourself and your family.
Switch to an inspired life. Switch to the Real Freshness Expert today!
For more exciting upcoming sales & promotions, stay tuned to our social media platforms.
Facebook: https://www.facebook.com/HaierPakistan/
Instagram: https://www.instagram.com/haierpakistanofficial/
Twitter: https://twitter.com/HaierPakistan