Ideas is the brand we trust to give us the best in fashion. They are our go to solution for all our fashion needs. Ladies have a special place in their lives for clothes and Ideas knows that variety is the spice of life; hence Ideas clothing lines are full of variety. Today, we will talk about the new embroidered shirts by Ideas Pret which make you enter a world of colors, intricate embroidery, beautiful cuts, excellent fabric and chic designs. The stitched range is hassle free as it is ready to wear with detailing done by professionals.
Below we are sharing our favorite embroidered shirts which will give you a peek into what is on offer: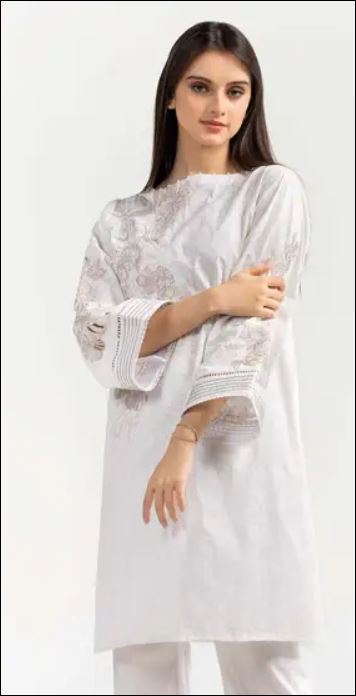 If you are looking for class and elegance then this screen printed and embroidered cambric shirt in white color is perfect for you. This shirt features a stylized neckline and a front with a beautiful embroidered motif. The sleeves are also embroidered with handwork and pleats to add on to the beauty of this shirt. It is best paired up with a white trouser of your own choice. This shirt makes an ideal gift not only for your own self but also for your near and dear ones.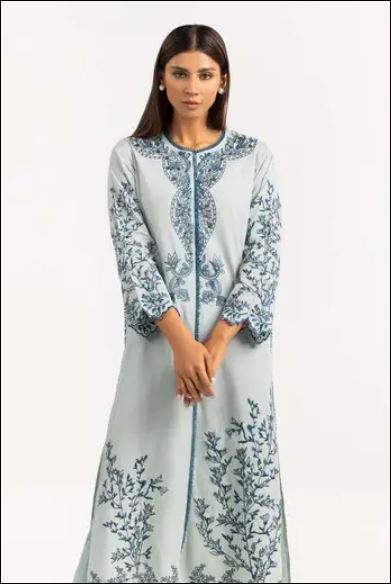 This mint green shirt is front open and is embroidered with cutwork on the neckline, sleeves and front daman. The embroidery is in the same shades as that of the shirt making it eye catching. Matching trousers are also available with this shirt. This is a festive dress and can be worn on any formal gathering. It is meant for those who want to dress to impress.
Here is an eye-catching ferozi colored screen printed and embroidered cambric shirt. It has an eye-catching floral cutwork on the sleeves and the front border of the shirt. You are sure to grab everyone's attention when you head out wearing this chic shirt. This shirt can be paired up with the trouser of your choice to give it your own signature feel.
Thinking what to wear for the next reunion with family or friends? Ideas Pret has just the right shirt for you here; this embroidered yellow cambric shirt has a stunningly beautiful cutwork on the front daman, sleeves and neckline. The pleat details on the front and sleeves add on to the beauty of this shirt. Dyed matching cambric trousers are also available with this shirt. You will surely be the center of attraction wearing this two-piece suit and receive a handful of compliments while leaving a lasting impression on the gathering.
For those of us who like lighter colors; here is a shirt in white base with multi colored floral embroidery work on the shirt. The embroidery has a beautiful pattern and is intricate to appeal to everyone's fashion sense. It is a formal dress which can be worn on official gatherings where you are representing not just yourself but your organization as well. It comes with matching pants.
We do need dresses which are full of life and can bring out the festive you. This cambric cotton shirt is a unique combination of gold, white and black on a red base. The shirt has intricate embroidery with artfully decorated sleeves with lace detailing. This shirt is offered with a pair of matching trouser in red to complete the look.
You can buy all the above and much more by visiting the nearest Ideas store or better still you can stay indoors and shop online from their website www.gulahmedshop.com or the links we have provided above. Delivery is FREE on orders worth PKR 2000 or more. So, happy shopping!!