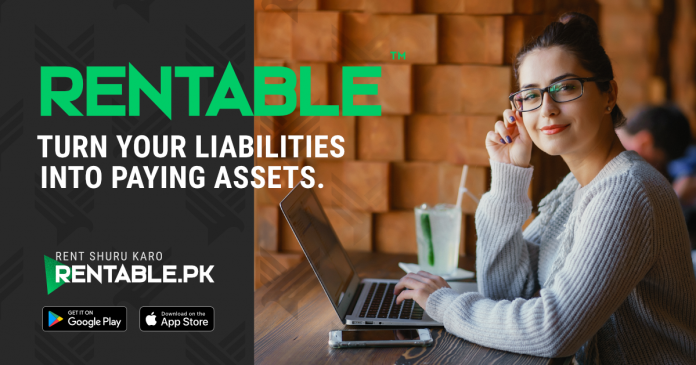 The rental industry is gaining extensive popularity in our economy. People usually prefer to rent rather than take complete ownership of certain products. The main idea behind leasing is significantly more moderate and advantageous.
Renting things that you rarely require is the best decision that you can make for yourself and your wallet. Gone are the days when people used to consider the notion of renting absurd; now you can find rental alternatives for almost any retail item on one platform.
Rentable.pk is one of the pioneer marketplace websites' in Pakistan that offers a two-way platform to the users, offering them to list and rent their products with advanced e-commerce business facilities. It offers its customers a world of leasing, in which anybody can lease their required products, nationwide. The website is a recent development spreading its wings far and wide. Besides, it also allows people to rent out their dormant possessions giving them some value, in return.
The purchase of hefty furniture, latest home appliances, designer clothes or luxury cars is an expensive activity. As much astonishing as it sounds, Rentable has made it possible for its users to avail luxury clothes, accessories, home appliances, and many other things just by renting them.
Renting luxurious items has become a trend to easily cater to your short-term needs. There is no need of buying designer clothes and bags just for one event because with Rentable you can flaunt it in less than a quarter of the actual price. This website is here to spoil you and take all of your worries away. It offers a wide assortment of items required by every household which could be rented. All you have to do is sign up on rentable.pk.
In not much time, Rentable has gained the attention of many people searching for choices that are not exclusive to satisfy their transient needs. From air conditioners to furniture, automobiles to sports equipment, books to televisions, this website has a range of products to make your life adequate and improved. Interestingly, it also gives its users a chance to negotiate for their desired products.
This website does not only provide you with the service of leasing different necessities but also allows you to rent out your assets to other people. It helps you to turn your liabilities into paying assets. You can click some shots of the spare item you have at home, to rent out and make an attractive advertisement on the website. The best thing about it is that it takes no extra commission. It is a free-to-all website that directly connects the supplier to the renter.
Rentable.pk is the first-ever free classified website that provides you with the opportunity to rent anything under the sky. As a company, it believes in providing complete disclosure to their clients, by answering all of your queries and make the website user-friendly. The underlying purpose is to allow its users to rent things at affordable prices and not bury themselves in debts, trying to fulfill their desires.
The online renting service, Rentable, has attempted to provide a platform that can help people in their difficult times when life attempts to place them in a secondary lounge. The website aims to help fulfill the short term needs of Pakistanis, at the most affordable prices. Rentable hopes that this generation will make the best use of their services and would promote the notion of the sharing economy.