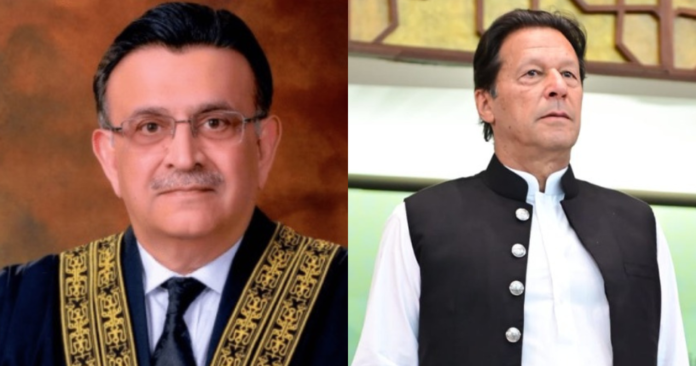 On the Supreme Court directives, the Punjab Police was told to register an FIR within 24 hours on a failed assassination attempt on PTI chairman Imran Khan. The directives were ordained to the Faisal Shahkar IG of the Punjab Police.
The former PM was injured in a bullet attack while the protestors were heading toward Islamabad for The Long March. The incident took place in Wazirabad, Punjab on 3rd November. The failed assassination has called for condemned reactions from the international community.
Imran Khan including fourteen was injured while a man was killed named, Muazzam Nawaz. Nawaz was killed by a bullet along with his three sons who were also present there.
The issue was brought up during the hearing of a contempt complaint brought by the interior ministry against Imran for allegedly disobeying a May 25 decision of the supreme court that set the parameters for the party's 'Azadi March' gathering in Islamabad at the time.
Five bench member was headed by CJP Chief Justice of Pakistan, Umar Ata Bandial, Ijazul Ahsan, Justice Muneeb Akhtar, Justice Mazahar Akbar Naqvi, and Justice Yahya Afridi.
The CJP warned of taking an action if the FIR of the incident has not been registered. CJP Bandial also inquired about the delay in the FIR from the IG police. Bandial questioned the delay in the FIR and asked for a solid ground reason. It has been 90 hours since the FIR has not been registered.
An investigation cannot proceed if the FIR has not been registered. As per the IG Punjab Police who had recently parted ways from the Punjab Government. Shahkar said that CM Parvez Elahi showed hesitation regarding the FIR.
Punjab is seeing the 8th IG being replaced in four years said Shahkar. In one of the remarks by CJP to the IG Shahkar said to work according to the law. CJP also directed them to investigate the matter till he is in post.
Bandial also warned to take the suo moto case if the FIR is not registered. CJP Umar added that the sensitivity of the matter should not go in vain; a national leader is being shot. It is immediate to probe, collect and find evidence to take the case further.