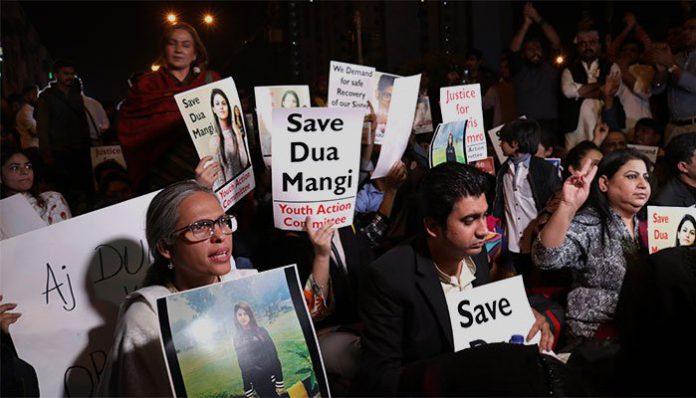 The Karachi Police Chief announced the arrest of two accused involved in the kidnapping of Bisma Saleem and Dua Mangi last year.
Karachi police chief Ghulam Nabi Memon revealed that a former police officer and his four accomplices were involved in the abduction. He added that two members of the group have been arrested, while raids are being conducted to find the others.
Addressing a press conference on Wednesday, Memon said that the government of Sindh has been advised to announce a reward of Rs five lakh on criminals.
Twenty-year-old Bisma Saleem was abducted outside her home on May 12 while Dua was abducted November 30 at a dinner at the Defense Housing Society. Both girls were reportedly kidnapped for ransom and later released without police involvement.
According to the City Police Chief, a five-member gang abducted both girls. Among the suspects, Zohaib Qureshi and Muzaffar alias Mozi have been arrested, while raids are underway to arrest former police ASI Aga Mansour, Shakeel, and Kamran alias Kami.
He claimed that the men were inspired by a film in which Qureshi and Mansoor came up with the project. He added that he used a rented apartment in Clifton to keep both girls in prison while using modern technology they keep their identities hidden.
Memon said that the group was involved in other criminal activities. Weapons are also seized from the arrested abductees, who had confessed to the investigative crimes. "It was a challenge for us," He told
He added, "But we utilized all the resources of the law enforcement agencies to resolve the crime."
In response to a question, Memon said that criminals are not part of any criminal group. He assures full protection will be provided to Dua and Bisma.