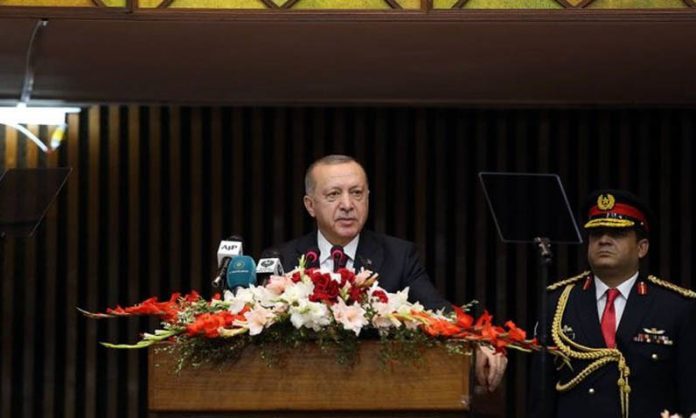 The Turkish President Recep Tayyip Erdogan fearlessly showed his support to Pakistan on Kashmir issue and other matters.
While addressing the joint session of Parliament on Friday Turkish President Recep Tayyip Erdogan assured Pakistan of Turkey's support on issue of occupied Kashmir.
During addressing session Turkish President said that he was happy and thankful that he got a chance to address the joint session of upper and lower house of the legislature Pakistan. He further thanked to the leadership and people of Pakistan for giving warm welcome on his arrival.
Turkish President Tayyip gives remarkable comment on Pak-Turkish friendship that it is based on love and respect and Pakistan's pain is Turkey's pain.  He further added that "today Turkey and Pakistan's relation are admirable for others. During difficult times, Pakistan has supported Turkey."
While talking about Kashmir Issue he clearly says that occupied Kashmir is as important to Turkey exactly what it had importance to Pakistan over the ages. He also said that our country had backed Pakistan on matters linked to counter terrorism.
He came earlier today at Parliament house to address the joint session where Prime Minister of Pakistan Imran Khan greeted him on his arrival at Parliament house.
All the top officials including Chairman Senate Sadiq Sanjrani, Speaker of the National Assembly Asad Qaiser, Governor Sindh Imran Ismail and other service chiefs of armed forces were present during the session.
The Turkish President last time addressed the joint session of Parliament during his visit to Pakistan in 2016.