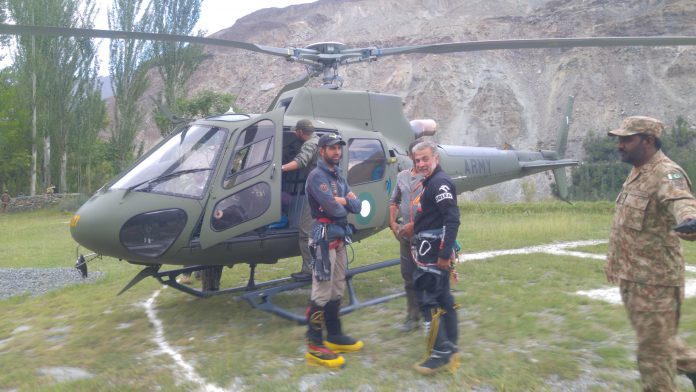 Pakistan Army rescued three mountaineers Stranded at an altitude of 6900 meters on Rakaposhi Mountain. The rescue operation continued for 8 days.
A Pakistani official said the three climbers were stranded on Pakistan's Rakaposhi Mountain while descending. Rescue operation carried out by helicopter.
Karar Haidari, secretary of the Alpine Club of Pakistan informed the three climbers have reached the base camp and are in good health. The climbers were greeted by government officials and politicians on their arrival in Gilgit.
The stranded climbers were initially provided with food supplies by helicopter but had to be evacuated as the weather worsened. They were told to come down with the necessary supplies but they could not succeed.
Sajid Ali Sadpara, son of Muhammad Ali Sadpara, had also reached Gilgit to rescue the stranded climbers. He was up to start a ground rescue mission as rescue efforts were being hampered by a helicopter.
However, the Pakistan Army has rescued the three climbers through a successful rescue operation. Likely, the climbers will also speak to the media today and brief them on the situation during the mission.