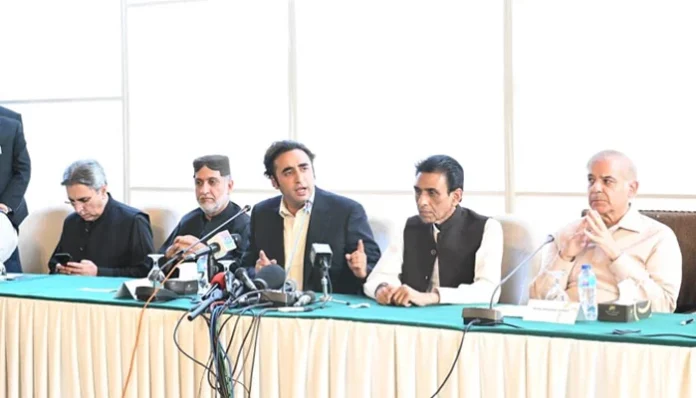 MQM-P's unexpected decision has caused a stir in the political landscape, especially for the ruling party – PTI. Earlier the decision taken by the MQM-P on Wednesday in a press conference decided to part ways with the PTI over a debate on the no-confidence motion. MQM-P decision to join hands with the opposition has resulted in a tough time for the PTI. Making the total number 177 for the opposition while PTI has now 164 members comparatively lesser than the joint opposition.
The meeting was attended by MQM-P Convener Khalid Maqbool Siddiqui, PML-N President Shahbaz Sharif, JUI-F chief Maulana Fazlur Rehman, PPP Chairman Bilawal Bhutto-Zardari and BNP-M chief Akhtar Mengal along with other NA members.
Maqbool Siddiqui who was also part of the conference referred to this beginning as a "historic "development. Siddiqui with a joint decision with the party has decided to work with the opposition for the development of Pakistan and not for personal political gains. He further added that in the future he hopes to work without having any political differences and acts of revenge.
Shahbaz Sharif responded to the questions asked by the journalist and said, "The word integral (revenge) is not there in our dictionary, as we want to work for the betterment of small provinces, including Balochistan,". Moreover, he stated that the sole purpose of the joint opposition is to work for the betterment of Pakistan.
Government
PTI — 155
PML-Q — 4
GDA — 3
AML — 1
BAP — 1
---
Total: 164
Opposition
PML-N — 84
PPP — 56
MMA —14
BAP — 4
BNP-M — 4
Independent — 4
ANP — 1
JWP — 1
JI — 1
MQM-P — 7
PML-Q — 1
---
Total: 177