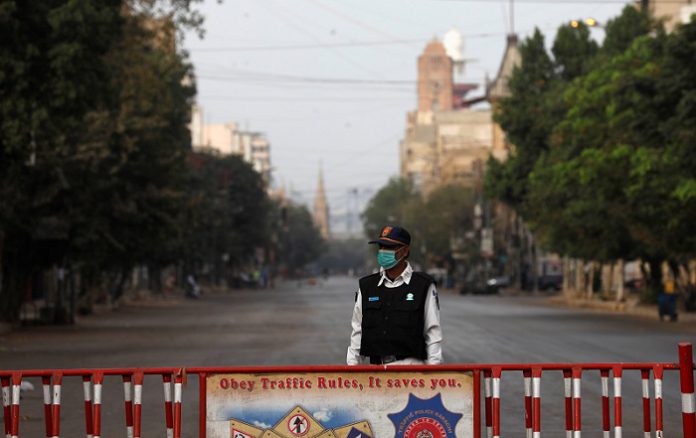 The smart lockdown in Karachi is now imposed and several areas of city will remain in lockdown till July 2. However, these areas are regarded as the potential hotspots in the city. As per the notification from Commissioner Karachi's office, some Union Councils have been put under lockdown from 18th June to 2nd July. However, medical and grocery will remain open.
Coronavirus Hotspots during Lockdown in Karachi
1. District South
UC Karachi Cantonment: Barzata Line and Doli Khata
UC Kharadar-3: Lee Market
UC Saddar-8: Burns Road, M.A. Jinnah Road, Main Saddar and Urdu Bazaar
UC Phase VI: Khayaban-e-Badar and Khayaban-e-Muhafiz
UC Lyari: Agra Taj-2 and Behar Colony
2. District West
UC-5 (Songal): Gulshan-e-Maymar and Khuda Ki Basti Phase 2
UC-3 (Islam Nagar): Naval Colony, Sector 4
UC-5 (Saeedabad): Area 5G, 5J, A3
UC-4 (Metroville): Block 3
UC-6 (Frontier Colony): Sector 4 & 5 near Malakand Hospital, Ismaili Quarters
UC-6 (Ghaziabad): Christian Colony
3. District Central 
Gulberg: Selected streets of Joharabad.
North Karachi : Bab-e-Ghazi Apartment Sector I I -E North Karachi selected streets and Anarkali Market.
4. District Korangi
Korangi Town: UC-2 Makhdoom Bilawal, Qayyomabad-A & B Area, Allahwala Town, Nasir Colony, P&T Colony, Darrusalam
Malir Town: UC-1 Moinaabad Phase 3, SI, 35/3 Model Colony, Jaffar Bagh and Nashtar Square
Landhi Town: UC-9 36-B Area near to Street Rehmania Nlasjid, Awami Colony, Imambargh Wali Asar Area and Power House Area
Shah Faisal Town: UC-7 Millat Town, Al-Falah Society and Malir Halt and UC-9 CAA Colony, Cantt. Bazar and Old Iqbalabad
5. District East
Gulshan Town: UC-1 Muhammad All Society, UC-2 Bahadurabad and Block 14, UC-4 Essa Nagri, UC-6 Block 13 (A&C), UC-7 Gulshan-e-Jamal, UC-8 13-D/II, UC-9 Block 7, UC-10 Block 14, 15, 11, Gulistan-e-Johar Block 2, UC-12 Sachal Goth and Rabia Petal, UC-13 Safoora, UC-14 Rufi Lake Drive Inn and Gulistan-e-Johar Block 13
Jamshed Town: UC-6 PECHS Block 2 Tariq Road and Block 6, UC-7 PECHS Block II and Block 6, UC-8 Balti Mohalla, UC-10 Martin Quarters and Fatima Jinnah Colony, UC-11 Jamat Khana, Jahangir Road Quarters No. 02, Jahangir Road No. 01, Teen Hatti and Bijli Ground, UC-12 Soilder Bazar Numaish Area
6. District Malir
UC-3 (Cattle Colony): Road No. 09, Complete Commercial Market area)
Gulshan-e-Hadeed-6: Complete Commercial Markets of Phase-I & Phase-II
UC-5 (Jaffer e Tayyar): Jinnah Square Commercial Market
UC-1 (Muzafarabad): D Area (Main Commercial Market Road from 50 Bedded Hospital to 52 Wing Pakistan Rangers), Old Area (Main Commercial Market Road), Jacob Line (Main Commercial Market Road), Majeed Colony Sector I & II (Main Commercial Markets and Muzafarabad Rerhi Road (Main Commercial Markets from Hospital Chowrangi to Hussain Chowrangi)
UC-3 (Dawood Chowrangi): Main Commercial Markets from Dawood Chowrangi towards 89 Petrol Pump
UC-4 (Quaidabad): Main Quaidabad, Gosht Gali, Murghi Khana Main Commercial Market, Majeed Panwala area near Mobile Market and All Mobile Markets.