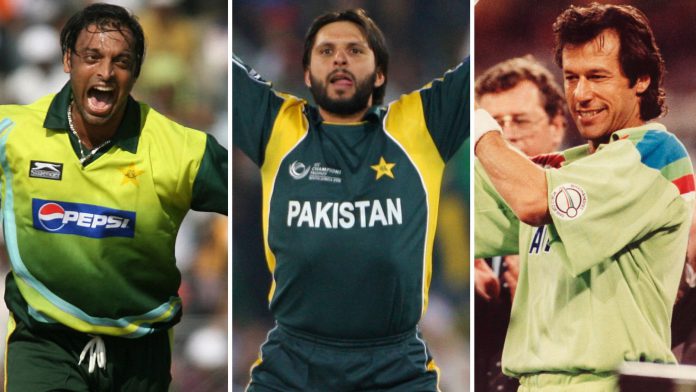 Prime Minister of Pakistan, Imran Khan is the most followed Pakistani Cricketer on Social media followed by Shahid Afridi, Saeed Ajmal and Waseem Akram
In this fast-paced world where all sorts of rage is found on social media, it is not surprising to see how active celebs are on these social platforms. Social media has set all the trends and to stay connected with your fans, celebrities, including cricketers, need to be active on Twitter, Facebook and Instagram.
The popularity of Cricket stars can be gauged from their social media handles, which are gathering a huge fan base with each passing day. Let's look into the Fan following of our Cricket stars.
Imran Khan – 25 Million
It is quite predictable that Pakistani cricketer Imran Khan is with most of the followers. The 67-year-old has a huge fan base, with a total of 25 million followers, including 9.8 million on Facebook, 11.8 million on Twitter, and 3.4 million on Instagram.
Shahid Afridi – 10.7 Million
Shahid Afridi's biggest fan base is on Facebook with 7.7 million followers. It is followed by Instagram with 1.7 million followers and 1.3 million Twitter users. He is standing at 2nd position with 10.7 million followers in total.
Saeed Ajmal & Wasim Akram – 7 Million
Wasim Akram and Saeed Ajmal have a total of 7 million followers on social media. Ajmal is as famous as the Sultan of Swing as he has earned 4.7 million on Facebook, 2.1 million on Twitter, and 0.2 million on Instagram. Similarly, Wasim Akram has 1.7, 5.1, and 0.2 million on Facebook, Twitter, and Instagram.
Shoaib Akhtar – 5.4 Million
Shoaib Akhtar's Facebook page has 1.8 million likes and 0.5 million followers on Instagram. Rawalpindi Express's biggest fan base is with 3.1 million followers on Twitter.
Shoaib Malik – 4.1 Million
All-rounder Shoaib Malik followed the list with a total of 4.1 million followers. The numbers are 0.4 million, 2.5 million, and 1.2 million on Facebook, Twitter, and Instagram, respectively.
These are some most Famous Cricketers from Pakistan that also influence social media.