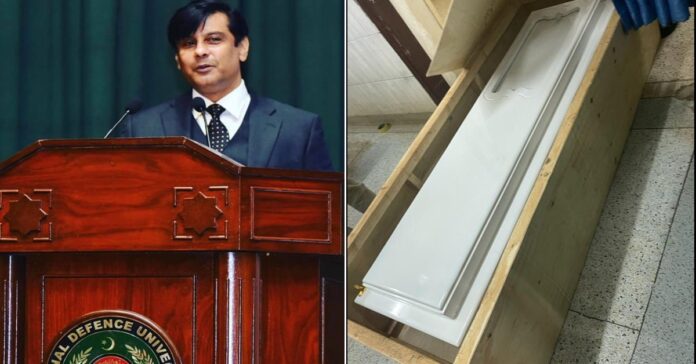 The slain dead body of a famous news anchor and a prominent senior journalist, Arshad Sharif will follow the last rite of the funeral in Islamabad. As per the family, the Arshad Sharif funeral will be offered at the Shah Faisal Mosque in Islamabad. The burial services will be at 2 pm on Thursday (today). The deceased will be laid to rest at the H-11 cemetery. The postmortem report will be released today by the Hashim Raza of the PIMS hospital. 
The murder in mysterious circumstances has raised public outrage and several questions as to what made the journalist move to a country like Kenya with the most crime rate. Sharif's body came to Pakistan from Kenya on Wednesday. A huge crowd of family members, friends, the journalist community, and fans received him at the Islamabad airport. 
Kenyan Police and their alternative statements:
Kenyan police from the beginning have been giving interchangeable statements. That has raised suspicion toward a targeted murder. Kenyan police first stance was that it was a case of 'mistaken identity'. Afterward, shifted to a child kidnapping case. However, without warning, several bullets shot at Sharif. One bullet that hit on the head killed him. PM Shahbaz Sharif called the Kenyan President to inquire set up an inquiry probe. 
In a yesterday press conference Faisal Vawda concluded that Arshad's killing was indeed a pre-planned murder than an accident. Vawda in a TV program revealed that the conspiracy of murder made in Pakistan and executed in Kenya. The murder of a senior anchor has sent shock waves to the international community. The international community and journalism's various platforms are demanding justice.