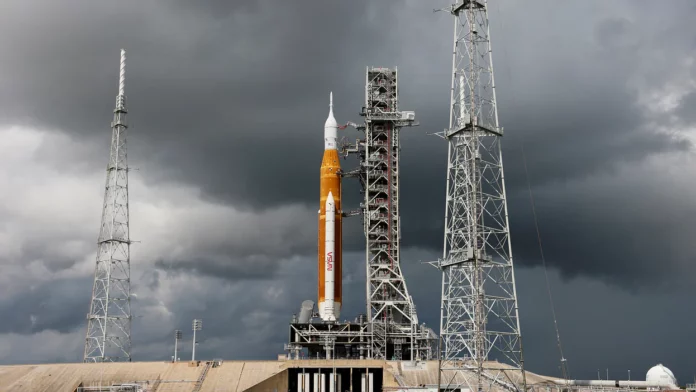 NASA after failing twice, launches a mega rocket launch to moon. Mike Sarafin, Artemis Mission Manager said, that the time is coming on Wednesday. Artemis 1 mission will be the first flight test with nought astronauts. The mission aims to build its presence on the moon and to prepare for future journeys to Mars.
The space program comes after 50 years of humans setting foot on stellar soil. The name given to the mission is Artemis who is the daughter of Zeus and Leto and the twin sister of Apollo. The first launch is all set with rockets to reach on Wednesday at 1:04 and 1:04 ae local time (0604 GMT). The launch window is assumed to be of two hours.
Less than a week will have passed since Hurricane Nicole passed over the area where the rocket was set to launch. For the time being, authorities are assessing the potential of storm damage to a thin RTV-like strip that encircles and improves the aerodynamics of the Orion crew capsule mounted atop the rocket.
Kennedy Space Center, Florida, USA has started countdowns for the rocket to take its inaugural flight. Two dates including November 19 and 25 are outlined in case of an emergency. The weather remains to be mild with more than 80% of brighter chances for the launch. The rocket had to reach back to the building to be protected from hurricanes.
In past, two attempts were canceled reasons. Both technical failures include a faulty sensor and a tank leak. However, NASA has altered some changes to eschew any thermal shock.  About 100,000 spectators will be expected to see the moment of triumph.