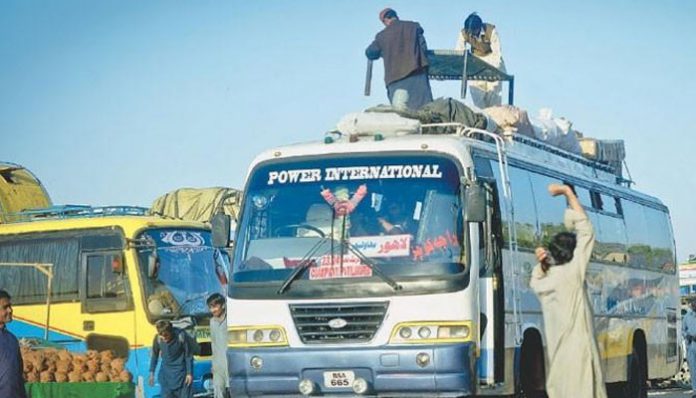 The Sindh government on Friday declared the resumption of intercity transport activities in the region under the Standard Operating Procedures (SOPs) for the wellbeing of passengers.
The decision, as indicated by the notice gave by the Sindh Transport and Mass Transit Department, was taken to oblige residents' transportation needs. Interprovincial transport, in any case, stays suspended.
The SOPs incorporate cleaning and purifying surfaces of transports, transport terminals, booking focuses and holding up regions, and the establishment of sanitization doors on the passageway and leave purposes of terminals.
Transporters have likewise been required to guarantee a "sterile domain in transports" and should implement social distancing during the process of ticketing, boarding, voyaging, and landing with a base three-foot separation. Wearing masks and hand gloves are obligatory for all the travelers, drivers, and conductors on board.
Transporters have likewise been approached to keep the least things and guarantee the accessibility of masks and hand sanitizers in each transport. The temperature of the body of each traveler, including the driver and the conductor, must be checked before boarding. Anybody with a hack or fever must not be permitted to board the transport.
The notification said, "Seating for passengers should be arranged at 50%." Window air must be ensured through the windows. The back door must be used for boarding, while the front must be used for lighting. "
It added, "Sneezing and coughing have to be accompanied by elbow or tissue papers. Intercity transporters have to mark the location of the bus parking base. Also by deploying additional or necessary staff and at bus terminals." Ensure crowd management by marking positions, and ensure availability of soap and sanitizer in public areas, toilets, and terminals.
On June 2, the Sindh government gave the green sign to continue open and online vehicle administrations across the province.