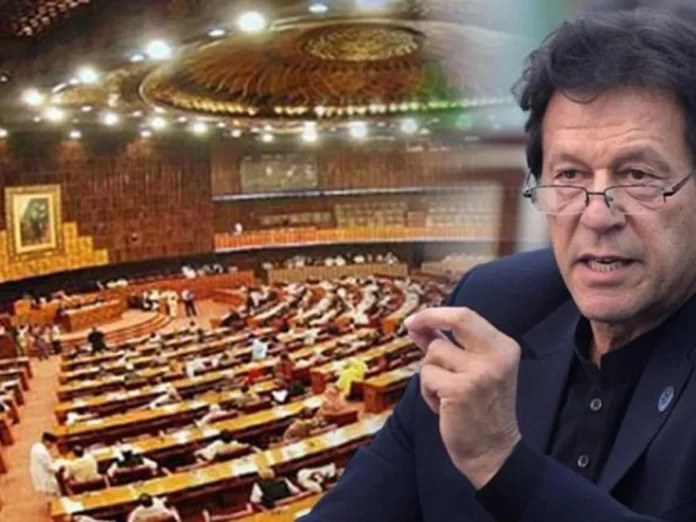 The National Assembly has yet to decide on the fortune of Imran Khan. It has become the longest weak recorded in the history of Pakistan politics.
Asad Qaiser, NA speaker will be chairing the session today at 10:30 on the directives of the supreme court. From the total of 342, the opposition needs to secure the least of 172. Due to PTI losing major votes in the NA. PTI seems determined to not go back and not let things easy for the opposition. Moreover, Fawad Chaudhry, the Information Minister said to disclose the threatening piece of evidence against the government in the assembly. And to hold a discussion on the floor.
PPP nexus PDM – joint opposition presented a no-confidence motion against the PM on March 8. Following the abruptness of MNA's changing their alliances. After Awami Party and Muttahida Qaumi Movement-Pakistan shifted their association with PDM. That resulted in a loss in numbers to the PTI major vote bank.
In recent times, PM has accused America of the regime change in Pakistan. That is threatening to remove his government in a "foreign conspiracy". The result raises serious concerns from around the world, opposition, and the USA denying the allegations.
Deputy speaker, Suri dismissed the motion submitted by the opposition. Moreover, the advice to dissolve assemblies was put forward by the PM. That called for a new election. A Suo Motu was taken by the Supreme Court on dismissing the assemblies by the deputy speaker, Qasim Suri. The rejection was questionable and a plea was filed against Suri.
Apex Court on Thursday night remarked a historical ruling and dissolute Suri's ruling with 5-0 voting. The court restored the Prime Minister and his cabinet following a national assembly session on Saturday (today) as the result of the no-trust motion is pivotal.